Weatherguard round top greenhouse By Jewett Cameron
---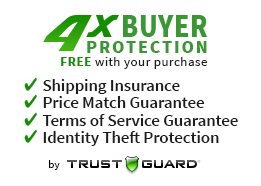 Questions? Quick Help
Ask a Question
---
One of the finer greenhouse kits on the market, durable steel tubing and fittings, along with a quality poly cover. Consistency in structure and materials will provide years of use for your growing efforts. With minimal cleaning and maintenance, our greenhouse will serve you for years to come.
These greenhouses offers plenty of room to foster growth of vegetables, flowers, and herbs on a year round basis. The walk-in design enhances the gardening experience. The reinforced triple ridge roof allows growing enthusiasts to hang their heaviest basket plants from the roof frame without sagging. The flowthruvent technology controls airflow from the base and the ends of the unit with lower vents and upper, zipper-screened windows.
100% commercial grade  fully welded galvanized steel frame

  for maximum durability.

Rugged all weather triple laminated P.E. cover, back panel, and front entry

Velcro held screened vented windows

Full entry front panel featuring

Heavy duty zipper

door allows access for wide items
Flo thru vent technology 

give you extra dimensions of climate control

Cover is an 8 MIL thickness

The round design is ideal for areas that may receive light snowfall in the spring

Quick connect steel frame and steel frame connectorsfor easy assembly 
JEWETT CAMERON HISTORY
The Jewett-Cameron Trading Co. began as a lumber wholesaler in North Plains, Oregon in 1953.  Operating as a well-respected brand in their community for 31 years, Donald Boone and Michael Nasser purchased the wholesaler in 1984.  Later, Murray Smith joined as CFO.  Always on the lookout for new opportunities, they began diversifying the business and incorporated into a holding company in 1987.  Today, Jewett-Cameron Trading Co. is a full service manufacturer of pet, garden, fencing, and tools for the U.S. market and around the world. Today, Jewett-Cameron is a leading manufacturer spanning across seven industries and three continents.
Weatherguard
Find your perfect year round greenhouse in Weatherguard, our line of roundtop greenhouses popular with both commercial and residential growers.  .  We use triple layer polypropylene cover material and commercial grade, fully welded steel frame for maximum durability.  Heavy duty zipper doors and side flaps give you extra dimensions of climate control.
I need a new cover for greenhouse

Please contact customer service with the size and they will be able to help you

Should my green house floor be insulated, packed dirt or concrete slab? Also how do I protect the green house from winter elements? Should I use plastic or glass to form the green house effect. What plants should I not grow in my green house? Lastly I live in Ohio.

we do not recommend this greenhouse for winters in cold climates