Riga XL Commercial Quality Greenhouse kit 14 Foot Wide 10 Foot High
$ 14,999.00

Save $ -5,000
---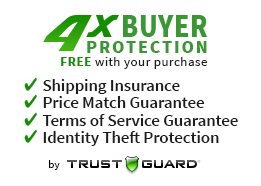 Questions? Quick Help
Ask a Question
---
ALL SIZES IN STOCK ADD TO CART TO SEE SPECIAL PRICES
732 806 7959


The RIGA Extra Large – 16 mm polycarbonate - is the largest commercial quality hobby-kit type greenhouse now available in the country. 
Designed, engineered, and manufactured in Germany by Hoklartherm, a leading manufacturer of commercial and hobby greenhouses, sunrooms, pavilions, pool covers, home additions, and commercial building, with 28 years experience.
With its 16 mm polycarbonate to withstand the harshest environments, the insulation factor is incredible: R-3.0 Riga XL is made of heavy duty aircraft grade aluminum with a 20-year frame warranty. Call us at 732 806 7959 to discuss your long time dream of having a private greenhouse in which to escape the busy world...
FREE SHIPPING!!!*
CALL US 732 806 7959
*Most locations
Expert phone support throughout assembly even during weekends
Extremely heavy duty construction
 16 mm UV coated TRIPLE-wall Polycarbonate Glazing on all 4 sides.
Two wide doors - Horse Barn style - 38" wide x 72" high - 1 in the front one in the back with locks
4-8 large roof windows - each with an automatic opener.-(size: 37.5" wide x 39.5" high)
4 "L-shaped" anchor bars (which attach to the inside of the base profiles) to attach the greenhouse to a concrete or wood frame.

First class insulation: R-3.0

Assembly time: 2 to 3 people: 2 days.

Warranty: Polycarbonate: 10 years; Frame: 15 years
The RIGA XL offers the maximum possible insulation currently available in a real greenhouse requiring the least amount of energy for its size: ~20,000 BTU (depends on your climate).
Comes with DVD and written Assembly Instructions
Made in Germany
PLEASE CONTACT US FOR ALL OPTIONS AND DISCOUNTS WITH YOUR GREENHOUSE PURCHASE
Foundation Frame/Base : 5" h x 3" wide. This "C-shaped" Base sits in the ground and is the factory's preferred anchoring system. Simply dig a trench 6" (throw the dirt to the outside) place the Foundation Frame build the greenhouse and then backfill the trench and the Foundation Frame with the removed dirt. Stamp it down and no winds (except tornados or hurricanes) will remove the unit. This is an easier option than building your own frame. It can also be used to raise your greenhouse 5" from a concrete base.
Top shelving: Suspended shelving with polycarbonate inserts (for more light): 14" deep. Maximum available length: up to 17 feet (see other RIGA sizes for shelving options)
Regular height shelving: Suspended shelving without braces, allows for larger equipment to be stored underneath, 25" deep.Maximum available length: up to 17 feet (see other RIGA sizes for shelving options)
Adjustable Metal Hooks: Set of 5 metal hooks. These are great for hanging lights, fans and flower baskets (heavier items)
Plastic hanger: Set of 10 hangers: These snap into the groves in the aluminum profiles (frame) and are used to attach twine/rope to, to support growth of tall plants (I.e. Tomatoes or beans etc.)
Riga XL Pro Grow Kit includes 14' top and regular height shelves, 3 sets of professional led grow lights, 24" intake shutter vent, 20" exhaust fan, thermostat for exhaust and fan, 17,500 BTU 220 V heater, 5 heavy duty seed trays, 10 metal hooks, , and 10 heavy duty plastic hooks.
RIGA XL 5 Professional Greenhouse: 231 sq.ft. 14' w x 16'5" l x 9'10" h, with 4 roof windows
RIGA XL 6  Professional Greenhouse: 280 sq.ft. 14' w x 19'10" l x 9'10" h, with 4 roof windows 
RIGA XL 7 Professional Greenhouse: 322 sq.ft. 14' w x 23' l x 9'10" h, with 4 roof windows 
RIGA XL 8 Professional Greenhouse: 368 sq.ft. 14' w x 26'3" l x 9'10" h, with 6 roof windows
RIGA XL 9 Professional Greenhouse: 413 sq.ft. 14' w x 29'6" l x 9'10" h, with 6 roof windows 
Additional length available in one-meter increments 
Can screens be added to the door and roof vents to keep insects out of the greenhouse?

In the owners manual (in the helpful links tab) on page 103 there are instructions on building your own screen

Do you finance

We are working on third party financing please contact customer service if you were interested