OLT Raised Cedar Garden Bed 8'x8' or 8'x12' With Deer Fence Options
---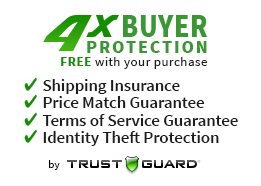 Questions? Quick Help
Ask a Question
---
OLT's Raised Garden Bed takes 'Urban Gardening to a whole new level! Big in size and easy to access from all sides makes growing crops for a family of 4 or more a breeze!
Disabled or elderly gardeners will appreciate the ergonomic design to reduce the amount of bending and kneeling required when attending to their garden.
High enough to keep out most critters and keeps veggies above the dog pee zone early this year.   The 33.5 in. high perimeter fencing is backed with black vinyl coated wire that doesn't rust.  Folding marine hinges allows you to utilize trellis panels later in the growing season when plants are taller.
Panelized Western Red Cedar Walls will easily assemble! Our 2 hinged wire mesh screens folding trellis can be mounted on the sides and or the rear for a total height of 47 inches. Climbing plants, tomatoes or runner beans will have lots of room to grow! Every wall panel allows 20 inch depth of growing height with an attached wire mesh screened frame. Total height of 33.5 inches will keep dogs and pesky away.
Weeding and planting will be a breeze with easy access in and out of your garden bed through the door with an attractive latch
The pre-manufactured Western Red Cedar panels are designed to assemble with ease.The unit features a central inner walkway with a gate. Once inside, the growing beds are 20 in. high x 28 in. wide capable of yielding a significant crop for you.
Add the 'Deer Fence Option' to deter the bigger pesky critters or just to grow your plants and crops bigger and taller.
Western Red Cedar Construction

Sturdy and Easy to Assemble

47" high folding trellis panels can be mounted in rear or on the sides

Raised Garden Bed Height is 33.5 inches at top of fencing with

20 inches of Growing Height

Easy access for planting and weeding through included door

Height Keeps out Dogs and Pesky Critters

Hardware Included (screws and hinges)

Deer Fence option raises the total height to 67"
PLEASE NOTE THERE MAY BE A DELAY OF TWO WEEKS FOR THIS ITEM TO SHIP
What type of base is recommended before placing the garden bed?

You do not need a base for this unit
---
We Also Recommend