Bella 8 Foot Greenhouse Kit
---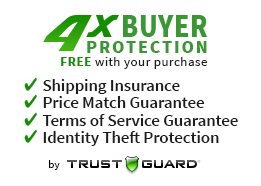 Questions? Quick Help
Ask a Question
---
A LIMITED SUPPLY OF THE BELLA GREENHOUSE IS NOW AVAILABLE 
The Bella is a beautiful and practical 8 ft. wide greenhouse; it features virtually unbreakable Twin-Wall Polycarbonate panels, creating an ideal combination of sunlight diffusion, heat insulation, and safety for all your gardening needs. The bell shaped greenhouse was specifically designed to improve wind resistance and allow snow to easily slide off. The large work-space and the wide double doors allow the most avid gardener plenty of room to grow an abundance of vegetables and herbs and still have room for transplanting tender plants, and for storing tools and accessories. The Bella is a strongly built, attractive greenhouse, it will offer you years of gardening enjoyment. This greenhouse also includes a galvanized, rust resistant steel perimeter base for additional structural support, stability and alignment. Bella, for a stunning and functional addition to your gardening experience.
Virtually unbreakable 6 mm twin-wall polycarbonate panels block up to 99.9% of UV rays, create even-light and maintain ideal temperatures
Rust resistant bell shaped frame designed for increased wind resistance and reduced snow build-up
 7' of head room in the peak
Low-threshold and double doors for easy access
1-4 adjustable roof vent
lockable door handle
galvanized steel base for structural support included
Maintenance Free
5 Year Limited Warranty
FREE SHIPPING!!!
CALL US 732 806 7959
Palram Applications Ltd is a designing, developing, manufacturing, and marketing arm of Palram Industries that is focused on creating new and innovative consumers products.
Established on 2005 and based on its facilities in Misgav Industrial Park, in the Galilee Heights of Israel,Palram Applications intended to exploit the use of Palram's core thermoplastic products, adding value to those core products in the process.
Integration of high quality materials, spectrum of technologies and diligent novelties state-of-mind are Palram Applications' ingredients to create valuable products for the needs of the consumers, retailers and distributors.
With the support of its mother company, Palram Applications enjoys the knowledge & professionalism of 50 years of experience. The availability of raw materials and infrastructure of an international company. Palram Applications' autonomous structure enables the company to be proficient and agile. This blend creates an innovative, efficient company that can be attentive to customer demands, and can respond quickly and specifically to market needs.
Obligated to short delivery times, quality products and excellent service, Palram Applications already took a leading position in the worldwide hobby greenhouses and Urban gardening market. Its innovative nature brings to the market many new ideas and concepts each year. Patio covers (pergolas), Carports, Door Covers, Outdoor Storage, and Solar Heating Solutions are some of the product categories which Palram Applications brings its unique added value to the market.
Palram Industries LTD.
With nearly 50 years of experience, Palram is one of the world's largest and most advanced manufacturers of Polycarbonate, PVC, Acrylic, and other thermoplastic sheets for a variety of industries including construction, graphics and display, architecture, and for the do-it-yourself
market (DIY). The company has manufacturing facilities in Israel,USA,England,Germany,China, and Russia.
Palram Industries company profile
www.palram.com
how are these greenhouses shipped?

These are shipped ltl curbside delivery with customer unloading

What is the maximum wind (mph) protection?

60 mph

can i install an automatic vent opener to these vents?

Yes you can. I can include free Auto Vent openers with your greenhouse please contact us.

Will this model fold up and take with you if needed to move?

It is intended to be built and left standing, However, if you move you can take it apart and put back together

What kind of base is required for this model? Are you able to set up directly on either grass, gravel, pavers, concrete or wooden decking?

This greenhouse can go on any flat surface

Are there doors on either end of this model? If not, is there a special kit available to add another door? Cost?

Sorry this option is not available on this model. the only ones that do are the Grandio Ascent and Grandio Elite

how much is shipping foe 8x12

Shipping is free

are there shelfs along the walls? if so how wide and high?

Hi Shelves are not included but are available at discounted prices with your purchase please contact customer service to order

How many vent windows are in an 8 x 12 model?

2 roof vents

what is the delivery time for the Bella 8'x8' greenhouse?

2 weeks

Hi What is the snow load per sq foot on this model?

20lb/ft