Snap & Grow 6 Foot Hobby Greenhouse 8- 16 Foot Length
---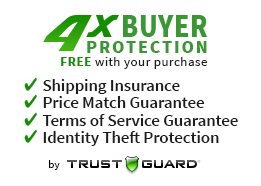 Questions? Quick Help
Ask a Question
---
The Snap & Grow greenhouse has been engineered from the ground up to get you growing quickly. It features the innovative SmartLock™ connector system that allows you to assemble the heavy-duty, aluminum frame quickly and easily without a lot of hardware. The innovative split door and vent windows are even preassembled out of the box! The tough, crystal-clear SnapGlas™ panels simply slide and lock into place without any complicated tools or hardware. Get growing so you too can start to enjoy greenhouse gardening in a Snap! The 6' wide Snap & Grow hobby greenhouse has a single hinged split door. Aluminum framework, clear single layer polycarbonate panels, swinging front door, rain gutter,one to three roof vents and a galvanized steel base kit are standard features of the Snap & Grow. Make any backyard a sanctuary—in a snap!

Crystal clear virtually unbreakable polycarbonate roof and walls panels that provide 100% UV protection and over 90% light transmission directly onto plants

Reinforced, doublewall & rust resistance aluminum frame

Includes1-3 adjustable roof vents, rain gutters, lockable door handle and galvanized steel base
Withstands winds up to 60 mph when incorporated with the anchoring kit

Snow load: 16 pounds per square foot
Features Palram's SmartLock connectors, average set-up time four to six hours

FREE SHIPPING!!!
CALL US 732 806 7959
The Nature Series works with Palram's line of hobby greenhouse accessories to maximize space and a more productive growing season

5 Year Limited Warranty from Palram
 
Palram Applications Ltd is a designing, developing, manufacturing, and marketing arm of Palram Industries that is focused on creating new and innovative consumers products.
Established on 2005 and based on its facilities in Misgav Industrial Park, in the Galilee Heights of Israel,Palram Applications intended to exploit the use of Palram's core thermoplastic products, adding value to those core products in the process.
Integration of high quality materials, spectrum of technologies and diligent novelties state-of-mind are Palram Applications' ingredients to create valuable products for the needs of the consumers, retailers and distributors.
With the support of its mother company, Palram Applications enjoys the knowledge & professionalism of 50 years of experience. The availability of raw materials and infrastructure of an international company. Palram Applications' autonomous structure enables the company to be proficient and agile. This blend creates an innovative, efficient company that can be attentive to customer demands, and can respond quickly and specifically to market needs.
Obligated to short delivery times, quality products and excellent service, Palram Applications already took a leading position in the worldwide hobby greenhouses and Urban gardening market. Its innovative nature brings to the market many new ideas and concepts each year. Patio covers (pergolas), Carports, Door Covers, Outdoor Storage, and Solar Heating Solutions are some of the product categories which Palram Applications brings its unique added value to the market.
Palram Industries LTD.
With nearly 50 years of experience, Palram is one of the world's largest and most advanced manufacturers of Polycarbonate, PVC, Acrylic, and other thermoplastic sheets for a variety of industries including construction, graphics and display, architecture, and for the do-it-yourself
market (DIY). The company has manufacturing facilities in Israel,USA,England,Germany,China, and Russia.
Palram Industries company profile
www.palram.com