Ogrow Lean-To Greenhouse With Sliding Door And Roof Vent 6' X 4' X 7'
---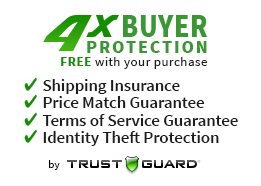 Questions? Quick Help
Ask a Question
---
This spacious lean-to greenhouse is the perfect solution for the real gardener out there who wants to grow the garden all seasons of the year. The Lean-to Greenhouse offers outstanding economic value, making it an excellent choice for people with limited garden space or those wanting to grow more delicate plants close to the house in an unobtrusive and neat manner. The stable right-angled structure adapts to any setting and can be placed on any flat and level surface whether soil, gravel, concrete or paving slabs. The aluminium frame and steel base are designed for strength, stability and endurance; with a green-coating that prevents rusting, tarnishing or fading. The polycarbonate panels are safe and easy to handle, and make your greenhouse shockproof and UV resistant. The greenhouse maintains an even temperature within the range of -25° to 60°C, providing an excellent growing environment with good insulation from frost. Featuring a sliding door for maximum easy access and additional ventilation; a roof vent to ensure proper air circulation and humidity control; and a base plinth for easier installation. With all these fantastic features, the aluminium lean-to greenhouse will undoubtedly provide an enjoyable and satisfactory growing experience for all! The greenhouse components come flat packed and require home assembly by at least two confident DIYers. Detailed fitting instructions are supplied for smooth DIY self assembly.
Green coating on entire structural frame to prevent rusting. UV-resistant and shockproof.
Structure: Polycarbonate walls 4mm thick. Aluminium frame 0.8mm thick. Steel base plinth
Reinforced steel foundation provides stability, prevents from sinking on soft ground and offers the best opportunity for ground anchoring
Lean-to greenhouse with spacious floor growing area of 25 Sq. Ft. that can be fully utilized due to the featured sliding door. Dimensions: (L) 6.2ft x (W) 4ft, (H) 7.05ft. Inner room space, 138ft3.
On this lean to greenhouse does it need to be attached to the side of the house? Does it have any covering for the side, or is it exposed?

Yes this greenhouse needs to be against a wall. It has no covering on the inside wall.

Does it come with shelves?

It does not.

Can the greenhouse be assembled with the door on either side?

yes it can
---
We Also Recommend