Ogrow Deluxe WALK-IN 8 Shelf Portable Lawn and Garden Greenhouse 77" H x 56" W x 56" D
---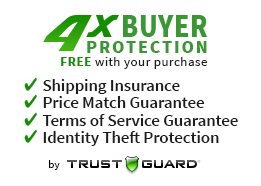 Questions? Quick Help
Ask a Question
---
If you are a garden hobbyist who would like to enjoy flowers and vegetables year round, the Ogrow 77" H x 56" W x 56" D Deluxe WALK-IN 2 Tier 8 Shelf Portable Lawn and Garden Greenhouse is perfect for you. Our greenhouses are affordable, lightweight and easy to assemble. No hardware needed for assembly! Designed with special heavy duty high quality plastic connectors for easy 123 assembly. Perfect for your garden, lawn, and backyard and even for patios, decks, and balconies right in front of your home! Double sized to give you even more space to store your plantings.
Sturdy dark green powder-coated frame for rust protection offers plenty of support for pots and trays. Its heavy duty reinforced green PE plastic cover that gives you extra protection against direct sunlight has full length roll up gives you easy access to the Insides where there are sturdy shelves for pots and seed trays. Ogrow Twin Wall Walk-In Greenhouse connects with ties giving you longer lasting durability. Heavy duty Cover construction ensures years of reliable use and won't fade or crack in sun. Walk-in Design offers enough growing space for large size plants and easy access & ventilation.
New added feature! This portable greenhouse now includes an anchoring system, which will securely anchor the greenhouse to the ground using strong ropes with deep rooting anchors that will guarantee sturdiness even in the worst of weathers!!
The purchase includes clear setup and care instructions. A bright growing season is coming… Ogrow Deluxe WALK-IN 2 Tier 8 Shelf Portable Lawn and Garden Greenhouse, a gardener's place!
Constructed with heavy duty powder-coated steel shelving
New added feature! This portable greenhouse now includes an anchoring system, which will securely anchor the greenhouse to the ground using strong ropes with deep rooting anchors that will guarantee sturdiness even in the worst of weathers!!
Connects with ties for easy assembly and stronger, longer lasting life span.
Strong durable reinforced green PE cover manufactured from heavy duty material.
Strong and durable shelving will hold your heavy plantings
Walk-In for easy access to your plantings.
Roll up door for easy access, ventilation, and moisture control
No hardware needed for assembly! Designed with special heavy duty high quality plastic connectors for easy assembly.
2 Tier 8 Shelves
Frame color - Dark Green
assembled dimensions 77" H x 56" W x 56" D
Entrance Dimensions 64" H X 30" W
Capacity wieght per shelf = 75 lb
Shelf Dimensions = 22.5'' & 13.5''
Warranty: 6 month for frame - 90 days for cover
how to heat

This unit is not made for winter growing and does not do a good job at retaining heat