Grandio Element 6 Foot all year Greenhouse Kit
---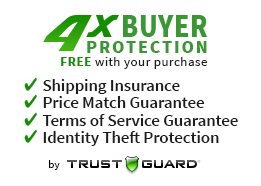 Questions? Quick Help
Ask a Question
---
Introducing the Grandio Element - the first 6 Foot greenhouse that doesn't compromise quality for size! The Element greenhouse has almost all the features and benefits of it's bigger siblings (the Elite and Ascent) just in a slimmer footprint to fit in smaller yards/spaces. Features such as 10mm twin-wall panels, a heavy-duty powder-coated aluminum frame, a 7' tall roof height, double-sliding doors that are nearly 6' tall, included roof vents, long-term warranties, and much more! The Element can handle the requirements of the toughest conditions with ease - so don't settle for less! Engineered to perform in harsh environments, the Grandio Element's rugged durability makes it the most insulated of the greenhouses on the market and its A-frame shape design is both elegant and functional allowing plenty of growing space. Made to meet the highest standards of amateur and professional gardeners, the 1.6mm profile aluminum frame provides a stronger and more durable build than its competitors and the heavy-duty construction coupled with 10mm twin-wall polycarbonate panels provide the perfect thickness for winter insulation.

CALL US 732 806 7959
 Please note: The element is currently backordered  with an ETA of Novenber
Height

: 7'

Width

: 6'

Length

:4' 8' 12'

Frame

: Heavy duty aluminum

Color

: Powder coated green

Panels

: 10mm twin-wall UV protected polycarbonate.

Door Width

: 27"

Doors

: Bind-resistant sliding double-doors.

Latch

: Easy-latch doors with double-ball catch

Tools

: Included

Hardware

: Stainless steel nuts and bolts

Gutters

: Built-in rain gutters

Ventilation

: 1-2-3 roof vents with adjustable manual openers/latches
Optional Steel Base Kit: If you plan on constructing your Element in a windy or extreme environment, Grandio recommends using the proprietary Steel Base Kit. The Steel Base Kit is powder coated to resist rust and decay, and its heavy duty composition adds additional strength and rigidity to your greenhouse. The Steel Base Kit also creates an additional 3" of headroom. Each Grandio Base Kit includes your choice of anchors for the following applications: earth/soil, concrete slab, or wooden decking. Frame-to-Base Brackets can be added to this configuration for increased sturdiness.

Included Flat Mount Base Kit: If you plan on constructing your Element on a concrete slab or wooden deck in a controlled or fenced-in environment, the included Flat Mount Base Kit will offer a sufficient footing. The Flat Mount Base Kit includes your choice of anchors for the following applications: concrete slab or wooden decking. If you plan on constructing your greenhouse over earth, you will need to purchase the Steel Base Kit.
Basic Kit Includes:
10mm Twin-Wall Panels
1-3 Roof Windows
Rain Gutters

Premium Kit Includes:
10mm Twin-Wall Panels
1-3 Roof Windows
Rain Gutters
1-3 Auto Roof Vent Openers
(1) Pack of 10 Plant Hangers
(1) Pack of 4 Frame-to-Base Brackets
(1) Trellis Kit
(1) Drip Kit
(1) 8 oz. Brillianize Cleaner with cloth
GRANDIO
WARRANTY
1. Grandio Greenhouses are warranted to the original purchaser to be free from defects in material or workmanship for ten years from the date of original retail purchase on all plastic panels. Additionally, the aluminum frame is warrantied for life. The word "defects" is defined as imperfections that impair the use of the product.
2. Defects resulting from misuse, abuse or negligence will void this warranty. This warranty does not cover defects due to improper installation, alteration or accident. This warranty does not cover damage caused by vandalism, rusting, "acts of nature" or any other event beyond the control of the manufacturer.
3. This warranty is nontransferable and is expressly limited to the repair or replacement of defective product if the product is defective within the terms of this warranty, Grandio Greenhouses will repair or replace defective parts at no cost to the purchaser. Shipping charges to and from the factory or distribution center are not covered and are the responsibility of the purchaser. Labor charges and related expenses for removal, installation or replacement of the greenhouse or its components are not covered under this warranty.
4. This warranty does not cover scratching or scuffing of the product that may result from normal usage. In addition, defects resulting from intentional damage, negligence, unreasonable use will void this warranty.
How easy is the Grandio to assemble?
Very easy. Grandio designed and perfected the assembly process with you in mind. Your Greenhouse comes with the tools and a step-by-step assembly manual and video and if you have any problems you can call Grandio customer support at 1-866-448-8231.
Is a building permit required?
You may not need a permit for your Grandio, but it is always a good idea check before you get started. We recommend you check local ordinances and requirements before setting up your greenhouse.
Is it strong enough for windy or heavy snow locations?
Definitely. Grandio's are all designed to withstand the most hostile environments. We've added roof and eave supports to increase the strength and durability of the greenhouse frame. Just follow the included directions for securing your greenhouse and you'll enjoy many years of growing with your Grandio.
I live in the hot southwest will Grandio Greenhouses work for me?
For people who live in high-temperature areas of the country like Arizona, Texas, California, Nevada, or New Mexico we recommend our aluminum shade net. The aluminum shade net reflects the sun on the hottest days to help your greenhouse keep it's cool.
How do the automatic roof vent openers work? 
The opener has a metal cylinder containing a mineral which expands when heated. This pushes a piston that opens the vent. As the temperature cools, the mineral shrinks and a spring closes the vent and resets the piston. The opening and closing of the vent is gradual allowing just the right amount of air flow for cooling. No electricity needed!
How large is the roof vent opening?
The vent opening is 18-3/4" width by 22-3/4" length.
What is the difference in polycarbonate thicknesses?
Polycarbonate is available in several different thicknesses and normally comes in single, double, and triple walled sheets that can vary in thickness from 1mm to 10mm. A good rule to remember is that the thicker the panel the better insulation you'll have for your greenhouse.
Can I buy a Grandio if I live outside the USA?
Currently, we can only ship orders to the USA and Canada. If you live in Canada and would like to place an order please call us
Shipping
How many boxes will I receive?

Your new Grandio ships in 3 or more manageable-sized boxes (the exact number of boxes depends on the size of your greenhouse).
How is it shipped?

Grandio Greenhouses are generally shipped via UPS Ground.
How long will my order take to get to me?
West:

2-4 business days

Northwest:

1-3 business days

Southwest:

3-5 business days

Midwest:

4-6 business days

East:

5-7 business days
Note: These are estimates and business days are the time your items are in-transit only and do not include order processing time. Inclement weather and unforeseen carrier or transportation emergencies may delay your delivery.
I need an automatic opener, do you sell these separately, also shelving? what's shipping time more or less?

Yes you can order this seprately and the shipping is the same and free as always. You can find the accessories HERE

We have winds that sometimes hit over 60 mph, how well will this structure withstand these types of winds. Often when storms are coming over the Sierras from California we can get gusts higher than 60 mph.

It is recommended with those kinds of winds to get the base and the frame to base brackets.

What does basic with base mean? Can it set on grass?

Yes , Just choose the earth anchor option or call us at 732 806 7959

How wide is the door opening?

27"

Hi - if we want this raised, can we make a frame out of 4 x 4's on the ground, not put the feet on the frame and attach the frame to the 4x4's? Thank you.

You can raise it by putting it on a wood frame. Just make sure the frame is well anchored. Also please note that the door wiil not reach the ground.

Can I buy the Grandio Element 6 X 8 Basic green house kit? You sell the same greenhouse with the premium add ons, why can't I buy the basic without the add ons and add on what I need, not the whole premium kit?

Yes sure all of the accesoris are available on their own and can be purchased indivisualy.

1. Can it accommodate a heater or some sort of heating system for low temperature weather? 2. Can it handle snowfall and if so,how much? 3. Can it be dissembled in spring and assembled again annually in mid-autumn?

1. Yes
2.Yes it is recomended to use the Snow load kit
3 It can but it is lot of work and it is not built to be taken apart.

Is this unit fit for the Texas (sometimes HARSH winter Ice Storms or Hail?) climate. Thanks, Tim

Yes, it is. The snow load kit is recommended

Do I need a heater in the winter.

It is recommended to use a heater in cold climates.

If we want the Premium but also want to anchor to the ground, sonwhat do we order? It's confusing. Do we need the frame to base brackets? Do they come with the Premium?

You would choose premium for the kit option and earth for the anchor options.

We are looking at buying the 6'x12'. Where can I get a wooden base for the greenhouse.

Sorry, we do not supply the base. Feel free to call us and discuss your anchor options.

Thought at one time when I looked at the Grandio Element greenhouse you could get a kit to reinforce the roof for snow in the winter. Is this still offered?

Yes that is the Snow load kit Please contact us for a discount when you purchase the snow load kit with your greenhouse.
https://www.worldofgreenhouses.com/products/grandio-element-greenhouse-snow-load-kit

How heavy is this unit, and I assume it comes unassembled. Does it come in boxes that could fit through most doorways? Is it moderately easy to assemble? Please advise

The 6x4 comes in 2 boxws one is 64"x25"x7" and ways 44lbs The other is 57lbs and 77"x12"x5" the larger ones have more boxes of similar sizes. and it is easy for someone who is handy. I would suggest taking a look at the manual in the links tab.

Can the GRANDIO ELEMENT 6 FOOT ALL YEAR GREENHOUSE KIT be installed on a paver patio?

Yes it can